Resident Writing Coach: PAGES Matam
We are thrilled to introduce PAGES Matam (They/He) as a Resident Writing Coach at Heidi Marshall Studio!
Pages Matam is a genderqueer med-school dropout turned award-winning poet, high-concept drama writer and performer from Cameroon, Central Africa. A multilingual pleasure activist and agent of imagination who loves battle-horror anime and fried plantains, with over a decade of experience in the arts education, creative writing, and performance industry.
Private Writing Coaching Now Available
Get 1:1 feedback and guidance from a professional screenwriter to refine your script and add polish before moving into production.
SUPERPOWERS: WORLDBUILDING, CHARACTER DEVELOPMENT, RESPONSIBLE WRITING, DEVELOPING THE WRITER'S VOICE
RATE: $150/hr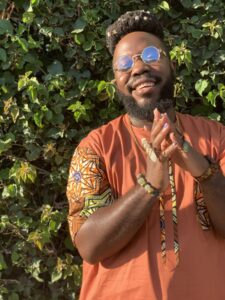 About PAGES Matam
PAGES Matam (They/He), is a genderqueer med school drop-out turned award-winning multi-hyphenate, pleasure advocate and agent of imagination. Born and raised in Cameroon, Central Africa, then blossomed in the DMV (Piscataway Land), PAGES loves battle-horror anime, mumbo sauce and fried plantains as much as crafting poems, character-driven high-concept scripts, and experimental projects. Their creative approach as a film-poet is fueled by their cultural and immigrant experiences, magical realism informed by mythology, folklore and hood fantasy, and a Black Queer Liberation politic rooted in Toni Morrison's words: "the function of freedom is to free someone else."
After over a decade in the Arts and Education nonprofit and corporate events programming sector, PAGES moved to L.A. to further their multi-hyphenate career primarily as a Drama writer, starting with the emerging screenwriters fellowship TRIBE at SUPERSPECIAL by Amy Aniobi. They also hold fellowships at Circle of Confusion Writers Discovery, GLAAD Black Queer Creatives, Artist DISRUPTORS by the Center for Cultural Power, Define American, and Callaloo Writers at Brown University.
When not writing, in development, or touring nationally, they work as Lead Story Expert at The Professional Pen, a screenwriter development agency based in Los Angeles. PAGES is a 3x poetry slam champion and world-renowned spoken-word artist whose work has been seen on BET, TV One, Essence Fest, the Kennedy Center, the Apollo Theater, Amazon, and in publications such as Cosmopolitan and OkayAfrica.  A 2020 Google x Guardian Rising Voices awardee, they've authored two award-winning collections of poems, has a TV Fantasy Drama in development at ITV & Circle of Confusion, wrote and created for Keke Palmer's KeyTV imprint, and was a recipient of the 2022 TRIBE Short film prize for their short "Seven Minutes of Heaven?" garnering multiple laurels including CANNES, Micheaux Film Festival, and best narrative short at the Baltimore International Film Festival.
PAGES is repped by Antonio D'Intino at Spectre Vision and attorney Sloan Whiteside. You can find them on the app formerly known as Twitter @pagesofle. Website: pagesmatam.com